Couples Weekend
Turning Fights into Conversations and Problems into Opportunities for Intimacy
Dan Wile, PhD and Dorothy Kaufmann, MFT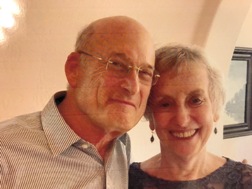 This workshop for couples, led by a couple, will be offered in Oakland, California on May 4-5, 2019. We will provide tools developed over the 40 years of Collaborative Couple Therapy, created by Dan, about how to have an engaged and fulfilling relationship. The heart of the weekend is experiential exercises done privately with your partner. Dan and Dorothy help each couple as needed. LGBTQ friendly.
The workshop will take place in our home in the upper Rockridge area of Oakland. Fee is $675 per couple  if mailed by March 23, 2019. After that date, the fee is $750. We meet from 9:30am to 4:30 pm on both days. Lunch and snacks will be provided. Workshop is limited to 5 couples.
For more information contact Dorothy: dorothy.kaufmann@gmail.com or 510-597-1248.
To register, please fill out the form below and send it with your check to Dorothy Kaufmann, 6119 Acacia Avenue, Oakland, CA 94618.
Workshop Summary
A couple problem is really two problems: (1) the problem itself (money, sex, children) and (2) how partners talk or don't talk about it. They fight or they withdraw.
The quality of life in a relationship depends on our ability to recover from the inevitable periods of fighting or withdrawing; that is, from turning each other into enemies or strangers. At a minimum, we want to keep such fighting and withdrawing from destroying the relationship. But it is possible to turn these hazards into means for deepening the relationship by holding a recovery conversation, in which both partners are able to say what they feel in a way the other can hear.
In such a conversation, couples are in position to remember what they cherish about each other and to come up with whatever solutions, agreements, compromises, understandings, or meetings-of-the-mind might be possible.
In an optimally functioning couple, fighting and withdrawing become opportunities for intimacy. In this workshop, we show how to create a reservoir of good will and a perspective from which partners can jointly guide the relationship.
Workshop Leaders
Daniel Wile, PhD, is a couple therapist in private practice in Oakland, CA. He has published three books (Couples Therapy, After the Honeymoon, and After the Fight) and numerous articles on couples in relationship. Dan gives professional workshops nationally and internationally.
Dorothy Kaufmann, PhD literature, MFT, has a private practice in Oakland, working with couples and individuals. In her previous life in higher education, she taught and wrote in the humanities, a career she sees as informing her present vocation.
Dan and Dorothy also provide therapy conjointly, seeing couples who would like to work with a couple.
This workshop offers 12 CE units for California psychologists, LCSWs, MFTs, and LPCCs. Collaborative Couple Therapy Seminars is approved by the California Psychological Association (CPA) to provide continuing professional education for psychologists. The California Board of Behavioral Sciences (BBS) now accepts CPA continuing education credit for license renewal for LCSWs, MFTs, and LPCCs. Collaborative Couple Therapy Seminars maintains responsibility for this program and its contents.
Comments by Past Participants:
I found that every private session (10 minutes or more of couples only conversation) yielded something new about my partner that I didn't know before. And this enhanced my curiosity about and empathy for him. I also learned new things about myself and was reminded of other important things about us as a couple.
The Sunday afternoon recovery conversation and the gentle, curious questions and supportive inquiring to expand on the experience were wonderful. I loved the positive "reservoir of good will" building and the Recovery Conversations.
It was a huge beautiful turning point for both of us.
Especially useful was hearing about how Dan and Dorothy navigate their own struggles.
The tone and rhythm of Dorothy and Dan was very comforting and created a sense of safety.
Amazing!! Best workshop I've ever attended. Well-paced, great exercises, expert facilitators.
REGISTRATION
COUPLES WORKSHOP
Mail along with a check for $675 (or $750 if postmarked after March 23, 2018) to Dorothy Kaufmann, 6119 Acacia Avenue, Oakland, CA 94618  
Please type or print clearly
Names: ______________________________              _______________________________
Phones:  _____________________________              _________________________________
Emails ______________________________                __________________________________
Address _________________________________________City____________________
State ________________ Zip __________
Second address if living separately  _________________________________________
How did you hear about our workshop? _____________________________________
Anything else you'd like us to know:
For CE units:
Name __________________ License type__________ License#__________  State ____